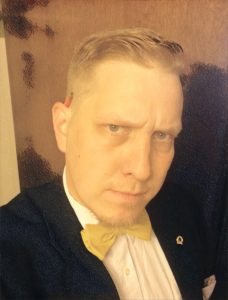 Aldean Hen­drick­son is a grad­u­ate of the Uni­ver­si­ty of St. Thomas in Saint Paul, Min­neso­ta, where he earned a B.A. in Eng­lish with a minor in Phi­los­o­phy.
For years respon­si­ble for a sassy lit­tle 'zine called The Float­ing Egg, Aldean was a Final­ist in the 2008 and 2009 Loft Men­tor Series com­pe­ti­tions in the Non­fic­tion cat­e­go­ry, and was priv­i­leged to be a part of the grad­u­ate Cre­ative Non­fic­tion Work­shop with Richard Ter­rill at Min­neso­ta State, Manka­to in the spring of 2009.
He cur­rent­ly lives and works in New Ulm, Min­neso­ta.